Bloomberg dropped the news today.
"For the first time, the world is eating more fish from farms than from the open sea, spurring billions of dollars of takeovers as one of the largest food companies seeks to capitalize on rising demand."
We are now eating more farmed bred fish than wild caught fish.
The Laws of Supply & Demand: You Can't Avoid Them
There are many reasons for this shift. The basic reason is that the demand for fish out-strips supply. Given that the supply of wild caught fish is not able to fill the gap – and too often is facing declining supply –  companies are stepping in and filling the gap with farmed fish.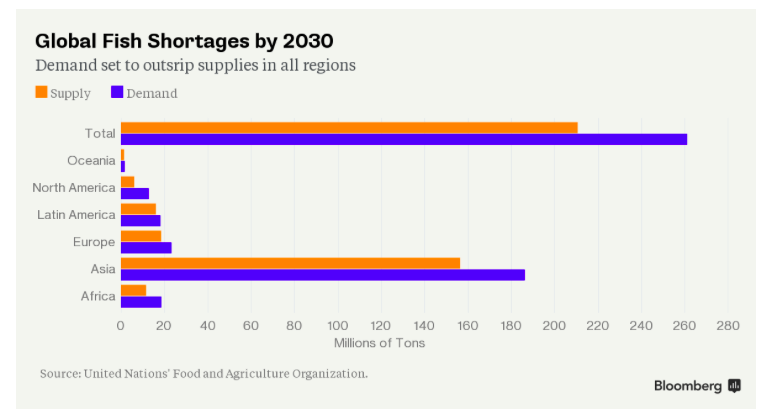 Innovation's Winners & Losers
The long-term bets being taken by trading houses like Cargill and Mitsubishi Corp. show the supply and demand for farmed fish is likely set to grow and grow. Industrial cattle, poultry and pig farms are going to be joined by industrial fish farms.
And, some day soon, the fish farm entrepreneurs will work out how to farm cod,blue fin tuna, and other sought after fish. They will  produce them on a large scale. These entrepreneurs will undercut the fishermen, and the fishermen will see their markets slowly evaporate.